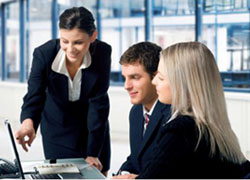 Executive Coaching
Coaching and Profiling
"It is not the strongest of the species that survives, or the most intelligent; it is the one most capable of change."
– Charles Darwin
Coaching and Assessment Background
Khyati is a trained Results Coach, certified by the Neuroleadership Institute, USA, which was founded by Dr David Rock. The Results Coaching SystemTM, also known as brain-based coaching, is fully accredited by the International Coach Federation (ICF). It defines coaching as 'facilitating positive change by improving thinking'. The Results model draws from the latest thinking in contemporary neuroscience, along with research from positive psychology, adult learning theory, systems theory and change theory. The coaching approach involves the following process aimed at behavioural change: 
• Setting powerful goals with clients
• Developing strategies for success
• Getting clients into action mode
• Managing progress and accountability
• Generating insights
• Working with habits 
Khyati has coached mid-level and senior executives from numerous industries across the region. Her portfolio of coachees include senior executives from Amazon Papyrus Chemicals Ltd, Carrefour, Commerzbank, Deloitte & Touche, Natixis Asia Pacific, Tat Wai and the World Bank. Khyati also coaches senior executives from Louis Vuitton Moet Hennessy (LVMH) as part of their T.E.A.M.S. Forum (Team Excellence & Agility to Mobilise Success). Khyati is also on a panel of executive coaches for Nanyang Business School's Breakthrough Leadership program which is a credit-bearing module for the EMBA 2020 cohort.
Khyati has completed the Science of the Art of Coaching (Neurobehavioral Modelling) programme conducted by the renowned Dr Paul Brown. The programme is designed for executive coaches who aspire to incorporate insights from applied neuroscience to enhance coaching and organisational outcomes. The programme has been endorsed for CPD points by the Association for Coaching and Certificates as well as approved as an ICF Continuous Education activity.
Khyati has completed the Thinking Environment® Thinking Partnership Course designed by Nancy Kline, the author of Time to Think and More Time to Think. This coaching technique embraces the philosophy of listening to ignite the human mind.
Khyati also incorporates profiling tools such as DiSC, Hogan, EQ Competency, Harrison Assessments, Thomas-Kilmann Conflict Style, and Lencioni's 5 Dysfunctions of a Team in her coaching practice. Khyati has also been an Assessor for United Nations High Commission for Refugees (UNHCR)'s Management Assessment Program which involves conducting online competency-based assessments for managers worldwide based on their Hogan profiles.
Khyati with Marshall Goldsmith, the #1 Executive Coach in the world
Khyati with Brian Tracy, international thought leader 
Khyati with Dr Paul Brown, Professor of Organizational Neuroscience at Monarch Business School Switzerland.
Khyati at the four-day Tony Robbins' event "Unleash Your Potential" in Singapore in February 2018.
I found the examples from actual corporations very useful as it helped understand the topics in a much better way. I like the interactive nature of the trainer.

I found the part on how to build leaders within a modern landscape most useful because in today's times, it is required in every field. The practical exercises done by us were useful.

I found the part about coaching most useful because the trainer used tools to generate thinking. The trainer's style is wonderful and her knowledge of this topic is excellent.