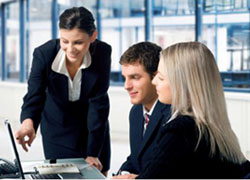 Executive Coaching
Coaching and Profiling
"It is not the strongest of the species that survives, or the most intelligent; it is the one most capable of change."
– Charles Darwin
Khyati with Marshall Goldsmith, the #1 Executive Coach in the world
Khyati with Brian Tracy, international thought leader 
Khyati at the four-day Tony Robbins' event "Unleash Your Potential" in Singapore in February 2018.
Khyati is a trained Results Coach.  The Results Coaching SystemTM, also known as brain-based coaching, is fully accredited by the International Coach Federation (ICF).  It defines coaching as 'facilitating positive change by improving thinking'.  The Results model draws from the latest thinking in contemporary neuroscience, along with research from positive psychology, adult learning theory, systems theory and change theory.  The coaching process involves the following: 
- Setting powerful goals with clients
- Developing strategies for success
- Getting clients into action mode
- Managing progress and accountability
- Generating insights
- Working with habits
Khyati has coached mid-level and senior executives from numerous industries across the region.  Her portfolio of coachees include senior executives from Deloitte & Touche, Natixis Asia Pacific, Carrefour and Tat Wai. 
Khyati can also incorporate profiling tools such as DiSC, EQ Competency and Harrison Assessments in her coaching practice.
I found the examples from actual corporations very useful as it helped understand the topics in a much better way. I like the interactive nature of the trainer.

I found the part on how to build leaders within a modern landscape most useful because in today's times, it is required in every field. The practical exercises done by us were useful.

I found the part about coaching most useful because the trainer used tools to generate thinking. The trainer's style is wonderful and her knowledge of this topic is excellent.