Personal Effectiveness
Training Overview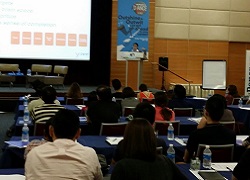 Personally effective people make good use of their talents, skills and resources and demonstrate success in achieving their goals. This workshop aims to create awareness about life-enhancing changes that can help us feel more empowered. It helps us understand how our day-to-day choices and actions impact our accomplishments. It highlights the importance and method of goal-setting as the integral first step to leading more fulfilling lives both on a personal and professional level. It focuses on the aspects of our lives that are within our control and covers the steps necessary to initiate personal change and development to achieve greater self-mastery and workplace performance.
Training Outline
Part 1: Where Am I Going?
- The impact of today's workplace on our lives
- Understanding our core values, goals and priorities
Part 2: Working Smart
- Effective strategies and approaches to work
- Recognizing time thieves
- Trouble-shooting
- Just doing it!
Part 3: Keeping it Real
- Health is wealth
- Examining our attitude
- Letting go to gain control
"The speaker is very knowledgeable. She is able to share her experience and information which is useful not only to work, but to personal life as well. It was very well-planned and thus able to capture the attention of the participants, allowed them to learn more. Good job." – Matthew Teng, People's Association
"The personal goal matrix was useful to me and will help me in achieving my goals. The trainer had good knowledge on the topic and is able to relate it to my job and personal life." – Lecia Teng, People's Association
"This will help me be a more effective and efficient person in work and in life. Able to better balance everything in life. She is very knowledgeable, communicates well, sincere and approachable." – Andrew Lee, People's Association
"It was good to introduce the personal goal matrix which is fundamental to setting priorities."
"Many useful techniques to enhance time management skills and effective provision of instructions for self improvement."
"Sharing of trainer's experiences."
"Course content."
"Situational examples."
"Illustrations."
"Activities and the analogies you could draw from it."
"Interactive."
"Informative pointers and notes."
"The trainer was knowledgeable, professional and friendly."
"[Trainer] Knowledgeable, concise and clear."

"The programme is practical for me to implement into my work
"The lecturer is very knowledgeable about the topics
"Very effective. The course was taught in detail and clearly explained.
"The ideas the trainers shared.
"The program enables me to identify the problems I may encounter at work and techniques to find solutions for them.
"Comprehensive material provided and able to apply those methods learned to my daily work.
"Able to use the problem-solving tools at my workplace for submission of monthly projects.

"Off-the-slides explanation was very good. Well versed in the area of context. A wide range of examples and research information. Narrative and interactive way is well approached." - Prem
"Words used were easy to understand." – Paramesvari
"Approachable, interacts well with the people, is open to the ideas/comments from the ground, gets to know what are our expectations from this course." Teo Wan Him
"She's very accommodating and understanding during the lessons. Her inputs of suggestions and allowing us to share experiences with hints of humor makes the class lively." - Suidah